Support for learning
During this period of school closure, we want to do all we can to support our families and children with learning at home. We know that these are challenging times for all and provide this advice and resources to help. We do not want to place undue expectations and stress on families to complete all of this learning and we suggest that you use the resources which work best for you and your family. If you require any help such as a password resetting, please send an email (enquiries@wps.wwpat.org) or phone school during office hours and we will do our best to help.
How to access online learning at Woodsetts
We have created a secure online learning folder using Google Drive to help our teachers share lessons, activities and useful links with families. Detailed advice in how to access these was sent in the home learning folders on our final day. You can download a copy of the advice sheet below:

How to access online learning. Please note: For security we have removed the web link from this document. If you need it again, please email and we will send.
How is learning organised online?
As we know that every child and family will work in different ways, we have tried to provide a wide-range of ways to access learning. Families can pick which ways work best for them and which resources they would like to use. The Google Drive folder is organised in the following ways:
Year group folders

Each class has their own folder. Teachers will organise these by week and then subdivide the folders into each day. Activities will be placed within these folders for different subject areas. There will be a mixture of resources which can be completed on screen, printed or viewed and then answers recorded on paper or in the exercise book we sent home.
Learning Projects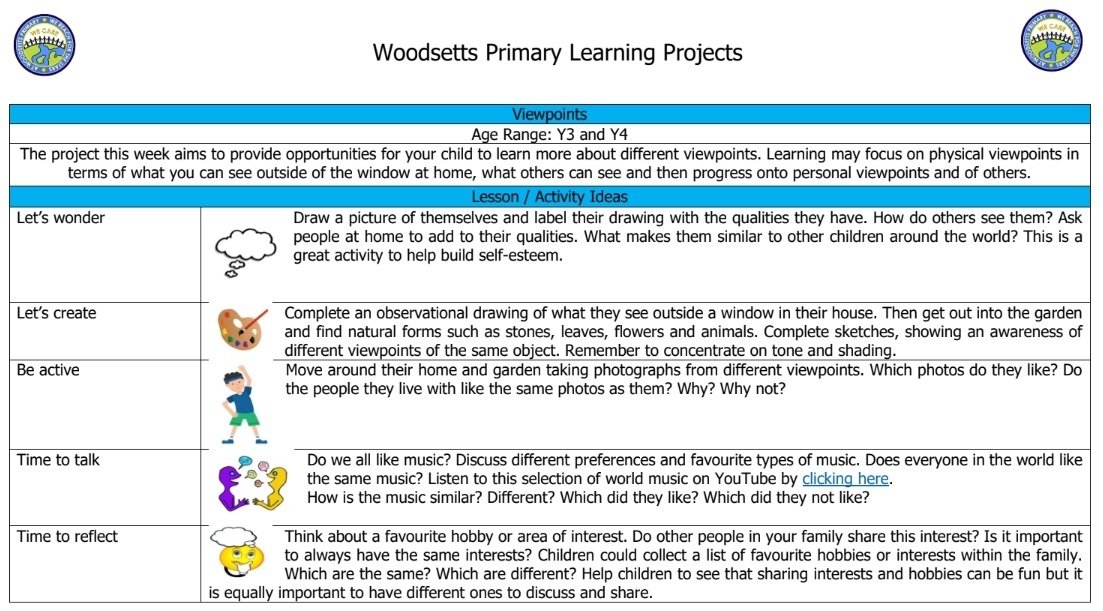 As some families and children may prefer to follow a more project based approach to learning, we have created a folder in the Google Drive called "Learning Projects". The aim is for these to have a range of activities and experiences for the children to have a go at linked to a theme. There will be a project for Key Stage 1 (Y1&2), Lower Key Stage 2 (Y3&4) and Upper Key Stage 2 (Y5&6) and the projects for each phase will have the same theme to help families with children in different year groups. Each week, a new project will be uploaded and will also include some suggested additional learning activities to help the children.
Learning packs
Many commercial companies such as 'Twinkl' and 'Teachers Pet' have been releasing packs with learning materials in to support during this period of school closure. We are collating these together to help families should you wish to use them. These have been made available via the "General resources" folder on the Google Drive.
Live learning and videos
There have been a great number of famous people and companies producing home learning content and videos for families to use. We have created a folder in the Google Drive with links and suggestions of what is available online.
Useful links
As we discover useful websites and online resources, we will add details of these into the "Useful links" folder.
General resources
In this folder we will upload general resources to help support our families and children. Some current examples include the great "30 day Lego challenge" and the "Starters for STEM" activity guide to help with learning science at home. We will keep this updated with new resources as the become available.
What about other online learning systems?
We are currently making use of Times Table Rockstars and Numbots to help support remote learning in maths. We are also in the process of signing our children up for a wide-range of online learning systems to help support home learning. Details of these will be emailed out to families as soon as they are available should you wish to use them.
What about support for children with SEND?
We appreciate that all children learn in different ways and at different levels. This is why we have provided the wide range of ways to access home learning in the best way to suit you and your family. If your child is struggling with the work set for their year group, please feel free to access the folders for a younger age. We have also created a folder called "SEND" which offers different advice, printable resources and links to support all children including those with a specific learning need. We will continue to update this as resources are created and sourced.